Austin is from Spokane, Washington and joined Peak 7 in 2009. He has been a committed member of the team ever since, serving as a guide, coordinator, program manager, and director. He is passionate about communicating the love of God, and sharing his enjoyment of the outdoors with youth. He loves spending time with his family, traveling and exploring the world, and having fun with friends. Austin lives in the Spokane area with his wife, Anna, and their son, Isaac.
Suzanne grew up on the beautiful island of Hawaii, where she first discovered the beauty of God's creation. Her love for the outdoors ultimately led her to Washington, where she now calls home. Suzanne lives with her husband in Seattle and in her spare time she enjoys baking cakes, painting, playing cards and camping! She has been involved with Peak 7 for over 5 years serving as a seasonal guide, program coordinator, and most recently, development coordinator. Seeing people challenge themselves and get out into nature is one of Suzanne's biggest passions in life. Through Peak 7 she hopes to provide as many opportunities for youth to get outside!
Shelley was born and raised in Spokane, where she met her husband Peter while in High School. Along with Washington, she's lived in Arizona and Indiana all while raising 4 children. Her first real outdoor adventure was a spring break trip with Outward Bound Adventure in Canada. Shelley and her family enjoy camping and boating wherever they currently call home.
Alex was born in southern Maryland and grew up camping and hiking with his family. During college he completed a NOLS semester in the Rockies, which sparked his passion for the outdoors. Alex started as a rafting and climbing guide for Peak 7's Oregon branch in the summer of 2013 and began working full time that fall. Alex loves rock climbing and can often be found leafing through guide books and planning the next trip to the mountains. Alex currently lives in Spokane with his wife, Rachel and dog, Havoc.


Sara-Anne grew up in Redmond, OR on the desert side of the state and now lives near Portland, OR. Her first experience with outdoor adventure was on a Peak 7 Leadership Development Trip in 2012 where she discovered her love for outdoor ministry and passion for introducing others to the outdoors. Since then, she has been on summer staff as a seasonal guide, volunteered, and joined the full-time team as the coordinator for the Oregon Program in 2018. Her favorite part of the job is watching people build relationships and gain confidence through outdoor adventure. When she's not on the river, you'll find her skiing (she was a ski instructor at Mt. Bachelor for 2+ years), snowboarding, reading, playing games, or on a road trip with her closest friends!
Lorelei grew up in South Carolina and joined the Army Reserves while in college. After college she joined the Army full time where she had an opportunity to travel and explore many new places and cultures around the world. Eventually, While stationed at Fort Lewis, Washington, she fell in love with all the climbing, trail running, caving, canyoneering, sea kayaking and backpacking in Washington State. She spent the last 15 years working with various non-profit organizations teaching mountaineering, rock climbing and backpacking and leading trips all over the Pacific Northwest. Her passion is encouraging youth to push themselves further than they dreamed and to experiencing Jesus' love along the way.
Hi! My name is Olivia Ekblad. I am so excited to join the Peak 7 crew this summer and lead some mountaineering, backpacking and climbing trips! I am originally from Winthrop, WA, so I grew up exploring in the North Cascades. I graduated with a community health degree from Whitworth University in January '20. For the past year I have been working at a residential treatment center called the Emily Program in Minneapolis, Minnesota, but I'm excited to come back West for the summer! In my spare time you could find me nordic skiing, trail running, climbing, drinking coffee, or baking (ask me for a gluten free cinnamon roll...).


Lindsey grew up in the Chicago suburbs participating in summer and winter camps throughout the midwest. It was not until she attended school in Michigan where she fell in love with climbing and backpacking for the first time. She is passionate about walking with Christ, learning about cultures, exploring the outdoors, and getting to know people's stories! She currently works as a nurse in Nashville, TN and is excited to experience God's beauty in creation alongside youth in Seattle this summer!


Cade was born and raised in San Diego, California and currently attends Grand Canyon University in Phoenix. He grew up going on road trips with his family and fell in love with exploring the outdoors. He always loved climbing, but never had the opportunity to invest in it until college, when he started getting involved with their outdoor program. Now he enjoys going outdoor climbing with his friends to different spots throughout Arizona. He also loves being shown God's love through the outdoors, and sharing that experience with others.
Wilderness Medicine Instructor
Daniel grew up as a missionary kid in Peru and Ecuador. He started climbing mountains at the age of 15 with his high school's mountain climbing club. He attended Nordfjord Folkehøgskule in Norway, majoring in Glacier and Mountain Climbing. He served as a missionary in Ecuador for 10 years, creating a backpacking program for an outdoors ministry called El Refugio. His passions include mountaineering, photography, medicine, and mentoring.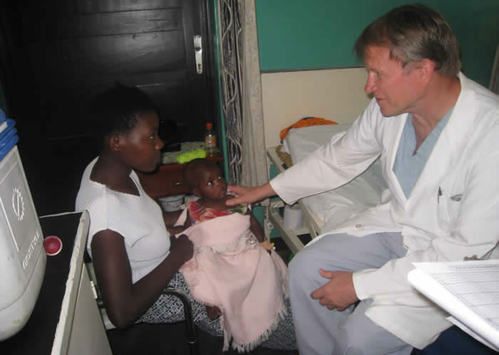 Wilderness Medicine Course Director
Dr. Kerrigan is Director of Wilderness Medicine. He is a board-certified general surgeon and former Instructor of the U. S. military's Advanced Trauma Life Support (ATLS) course. He has practiced in underserved areas around the world and has published research articles on tropical diseases and venomous snake bite. He is a recipient of the American Medical Association's prestigious Nathan Davis Award for "outstanding contributions to promote the art and science of medicine and the betterment of the public health."
Wilderness Medicine Instructor
Kyle has been a key member of the Peak 7 team for several years now, contributing heavily to our wilderness medicine and rafting programs. As a veteran, and current volunteer Firefighter and EMT, Kyle lives in the Priest Lake area with his beautiful family. He has volunteered a massive amount of hours over the last seven years to further the mission of Peak 7 and positively impact the lives of countless young people in our region. In his off time, Kyle also serves at his local church as a youth pastor.
Subscribe to the Peak 7 newsletter!